Like any art form, to become good at landscaping you first need to know what the rules are so that you can create something that looks good from the beginning.
It's tempting, in a field as subjective as garden design, to feel that rules do not apply. However, after 28 years and hundreds of projects later, I've come to believe in certain rules and guidelines that are neither fussy nor constraining. All have proven invaluable to me over my years of garden-making. Applied by any gardener, amateur or professional, they will result in a more successful, satisfying design.
Let's start with two rules that can kick-start the process of laying out a landscape, then move on to guidelines that help in scaling the proportions of a garden's elements and, finally, to choosing and using the right plants.
01: OBEY THE "LAW" OF SIGNIFICANT ENCLOSURE
Yes, this one's a "law," not just a rule! It addresses the root meaning of garden, which is "enclosure." This, to me, is absolutely critical in creating a sense of refuge and of feeling oneself within nature's embrace. The law of significant enclosure says that we feel enclosed when the vertical edge of a space is at least one-third the length of the horizontal space we're inhabiting. Probably derived from behavioral psychology studies, this rule came to me from a professor in graduate school, and it was one of the best things I learned.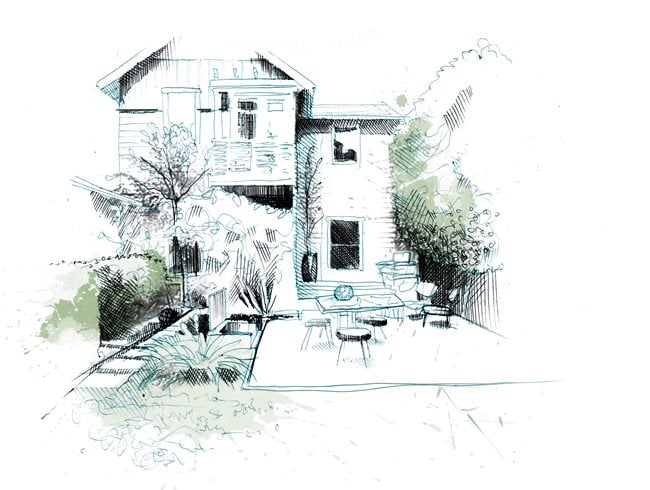 On this project in Pacific Palisades, CA, an existing and overgrown row of ficus was reduced by half knowing it would still more than adequately enclose the patio. Illustration by David Despau.
Just yesterday, as I was starting the design of a patio that I wanted to separate from an adjacent play area, it gave me instant guidance for how tall a hedge I would need: the area was 17 feet wide, and so my hedge should be at least 6 feet. Sit near a tree in the park, or a wall, and gradually edge away, and you'll see how it works. Of course, there are times when the point of a landscape design is a monumental sense of scale or view, but the best gardens, whatever their size, modulate a feeling of enclosure and openness, and this rule will help.
02: FOLLOW THE REGULATING LINE
My formal architectural education also introduced me to the concept of the "regulating line." The idea is that an element of architecture (for example, a doorway, or a building edge, even a window mullion) or a distinctive landscape feature (prominent tree, existing pool, property boundary) can "generate" an imaginary line that helps connect and organize the design. For example, in laying out one backyard, I projected the lines of its building addition into the garden …
See more: https://www.gardendesign.com/landscape-design/rules.html